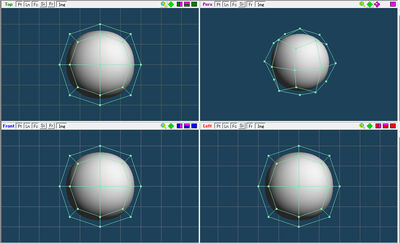 'Patches' are effects applied to objects to make them smoother, though in doing so it also makes the object smaller.
In Metasequoia, there are 3 main types of patches: spline 1, spline 2, and Catmull-Clark. Splines 1 and 2 each have a drop-down list with 9 options, the same for each. The options are 2, 3, 4, 5, 6, 8, 10, 12, and 16. The third option, Catmull-Clark, gives only four options: 2, 4, 8, and 16. This option, however, is the smoothest of all, and doesn't show the little squares that might show up with spline 1 or 2. Concerning the values, the higher the number, the smoother the object, and the more vertices the object will have, should you freeze it through the Menu -> Object -> Freeze option.
Ad blocker interference detected!
Wikia is a free-to-use site that makes money from advertising. We have a modified experience for viewers using ad blockers

Wikia is not accessible if you've made further modifications. Remove the custom ad blocker rule(s) and the page will load as expected.